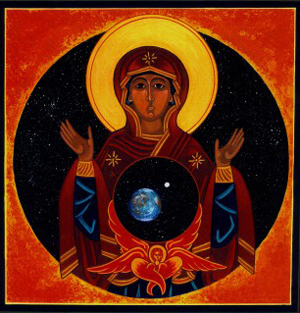 Sermon for Year B, Second Sunday After Christmas
By The Rev. Torey Lightcap
St. Thomas Episcopal Church
As a child, were you ever separated, however briefly, from your parents, out in public?
It's terrifying, of course.
I bet a lot of us have stories about losing our mom or dad or grandparent for a minute or two.
My story takes place in a grocery store, but I won't bore you with it,
Except to say that the bottom temporarily fell out of my stomach,
And my mother had no idea why I was in such a fit when I found her.
The point is you probably remember very well that childhood feeling of total anxiety.
As a parent, have you ever been unable to find your kiddo when you were out in public?
It's the worst feeling there is.
It's the feeling of dread and panic -- and being a total failure on top of it all --
And it's all of that, mixed in together at the same time: dread/panic/failure; failure/panic/dread.
That's also when the brain starts working overtime to come up
With the worst possible things that could have happened,
And you want to say to your imagination that
This is not helping right now.
But when these moments do occur, whether it's with the parent or the child or both --
It's coming -- it's churning up from way deep down inside of us --
It's almost cellular; it's printed on our DNA:
We do not lose our children!
It's the last thing we'd ever want! Unthinkable.
A deep, primal fear and an instinct that takes over:
"Where is my son?" "Where is my daughter?" "Where's Daddy?" "Where's Mommy?"
Mary is just being a mom here. She loses her child and needs to find him.
But in fairness, she does have an added burden.
Because -- do you remember the following from Luke?
We read it on December 21st:
"In the sixth month the angel Gabriel was sent by God to a town in Galilee called Nazareth,
To a virgin engaged to a man whose name was Joseph, of the house of David.
The virgin's name was Mary. And he came to her and said,
'Greetings, favored one! The Lord is with you.'
But she was much perplexed by his words and pondered what sort of greeting this might be.
The angel said to her, 'Do not be afraid, Mary, for you have found favor with God.
And now, you will conceive in your womb and bear a son, and you will name him Jesus.
He will be great, and will be called the Son of the Most High,
And the Lord God will give to him the throne of his ancestor David.
He will reign over the house of Jacob forever, and of his kingdom there will be no end.
'
Mary said to the angel, 'How can this be, since I am a virgin?'
The angel said to her, 'The Holy Spirit will come upon you,
And the power of the Most High will overshadow you;
Therefore the child to be born will be
holy
; he will be called Son of God.
And now, your relative Elizabeth in her old age has also conceived a son;
And this is the sixth month for her who was said to be barren.
For nothing will be impossible with God.'
Then Mary said, 'Here am I, the servant of the Lord;
Let it be with me according to your word.'
Then the angel departed from her."
And so I think it quite possible, as far as Luke is concerned,
That as Joseph and Mary are frantically searching for their firstborn
In every little nook and cranny of Jerusalem,
These words that were once such a blessing have now returned to haunt her in the moment.
"I had
one
job! Just don't lose him! That was it! I'm the worst mother in the world.
How is he ever going to be great and be called the Son of the Most High
And sit on the throne of David and reign over the house of Jacob endlessly,
When he has a self-image problem and abandonment issues stemming from his mother?"
I mean, if we're going to take the Bible seriously,
We can't just hold the story out at a distance;
I have wandered some of the back alleys and bazaars of Old Jerusalem myself.
Behind every corner is another nook and cranny, with trouble to get into.
It's an easy place to get lost for good. The danger -- today, anyway -- is very real.
Dread, panic, and a deep sense of failure are precisely where the story takes us today.
All the way, fast, to the bottom of the first drop of the roller coaster,
ka-plunk
.
The next moment is -- big tears of joy --
... Oh thank
God
you're safe.
The next moment is -- hot tears of anger --
... What were you
thinking
?
...
Who were you even
with
?
... You could have been
killed
!
... We've been looking
everywhere
for you.
NEVER
do that again.
Then the roller-coaster steadies out and the drops aren't quite so hard.
Mary has her arms around her boy again,
With no intention of ever letting him go,
And that's all that matters right then.
Only, see, in the way this plays out in real life,
Most of the time the child has enough sense to respond
in kind
:
"I know, Mommy; I'm sorry, Mommy; I love you, too, Mommy.
And I'll NEVER do that again."
Those are the key words. "Never do that again."
And then from that comes the certainty -- that all of this is not for nothing,
That the time I put in has not just gone in to some black hole,
But it's all somehow worth the struggle to raise this child.
I want to take her side, perhaps unfairly, for just a minute,
Presuming there
are
sides to this conversation --
This strange little conversation about how God demonstrates exceeding power and wisdom
Among the doctors of the church.
Because Jesus never makes that promise to his mother not to do it again, does he?
He never guarantees that he won't leave her arms again.
It seems to be clear enough to him,
Even if it isn't nearly clear enough to us,
That "being in [his] father's house" means having to leave his mother's arms over and over.
That this is the family business, and it means walking away.
He will walk out the door of their home when he leaves as an adult --
An adult, by the way, who is expected, in that culture, to remain close by and look after her.
He will derisively call her "woman" rather than "mother"
When she asks him to help out at the wedding feast in Cana,
Even though her request is simple and straightforward --
Please help
, she says.
He will allow himself to be labeled a bastard child by the people of his hometown
And will not rise to her defense, but rather call himself a prophet without honor.
He will appear to disown his mother and brothers outright when they come to get him,
Out of nothing but concern for him,
As he prefers instead to make an abstract point about discipleship.
And on that fatal day, the day we mark as Good Friday,
As the cross becomes a pulpit,
Jesus will give the disciple he loves over to Mary to be one like her son.
But with respect, no one would mistake this disciple for any of her actual children,
Even though I pray I can understand his point, it must have felt like some cheap consolation.
A mother knows everything about her children --
Their sounds, their movements, their expressions, even the way the tops of their heads smell --
From the first moment they come bounding in to this world, helpless and hungry.
She must have watched all those years, dread mixing with panic over and over,
Watching the man he was becoming, fear mixing with happiness, watching him unfold,
Wondering what in the world was going to happen to him,
Why it gave him such glee to tweak the noses of those who wielded power and influence.
Watching from the wings, leaning hard forward, trying to catch every word she could,
Worrying, worrying after him --
... How is the person he is becoming like one who would ever sit on a throne?
... He knows so many things and is so wise and special; but how is this like a king?
... What if the Angel of the Lord was just wrong in this case?
Mothering is part prophecy, part pain-bearing, and part pride.
All of that, in the background-static of her memory, in the moment of her pain,
When they cut down her boy and hand over his lifeless body,
To be spiced and wrapped and laid out on a cold rock coffin
As the last of the Good Friday sunlight slips over the hills of the valley beyond.
Hands-down: Losing a child must be the hardest thing there is ...
Forget about Mary as some lofty resident of the heavenly paradise.
She was his mother, and she always would be. Always will be.
But nothing compares to the soul-stabbing pain of laying your child to rest.
Back then, when he was a boy and we lost him in the crowd --
Yes, we lost him for a while; but he was our boy, our responsibility.
We got him back. We did the best we could.
We tried, I tried, God knows we tried, to keep him safe for as long as we could.
And now, the faint recall of him standing on a hillside,
Saying "Jerusalem, Jerusalem, the city that kills the prophets
And stones those who are sent to it!
How often have I desired to gather your children together
As a hen gathers her brood under her wings, and you were not willing!"
Only his mother, with his body in her arms like a hen with her chicks --
Only his mother could really understand.
And yet I wonder. I just have to wonder if she wondered --
If he could be lost to them and found to them once before, all those years before,
And then going and coming his whole life, disappearing and reappearing,
Might he ever appear again?
Did even death itself really have to be the final word?
Or was there some unseen light shining in the darkness, and a hope of return?